Red 5 Socks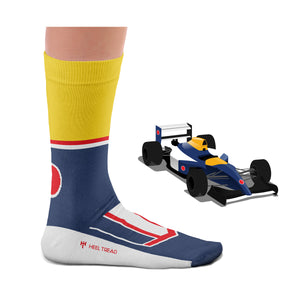 Red 5 Socks
Regular price $13.00
Red 5 Socks
Wear your passion on your feet!
GaragePassions.ca is excited to offer Motorsports inspired socks by Heel Tread.
Nigel Mansell's "Red 5" Williams-Renault FW14B formula on car is certainly one of the most recognizable racing livery. One the most sophisticated cars with its active suspension, semi-automatic gearbox and traction control, back in 1992.
80% Combed Cotton, 17% Polyamide, 3% Elastane.
We use seamless knitting to create a sock with no stitches.
Wash inside out (40ºC/100ºF max). Do not tumble dry, iron, bleach or dry clean.
Size : Large (Men US 8 - 12) / (Women US 10 - 12 1/2)
people are currently looking at this product
Estimated delivery time 5-10 days