1971 Martini Porsche 917 Longtail - 3D Racing Sign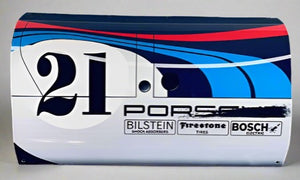 1971 Martini Porsche 917 Longtail - 3D Racing Sign
Regular price $94.00
1971 Martini Porsche 917 Longtail - 3D Racing Sign

The #21 Martini Porsche 917 LH was driven by Gerard Larrousse and Vic Elford in the 1971 Le Mans 24 Hour race, where it was capable of reaching a speed of 386 km/h (241 mph) down the Mulsanne straight!
This decorative piece is made of thick aluminium with HD graphics, incredible colours and attention to detail.
Size is approximately 18 inches wide by 12 inches tall.
This piece has 4 holes (one at every corner) to help mounting it to a wall (hardware not included).
Own a piece of history with this 
1971 Martini Porsche 917 Longtail - 3D Racing Sign
people are currently looking at this product
Estimated delivery time 5-10 days