Lotus 49 Low Socks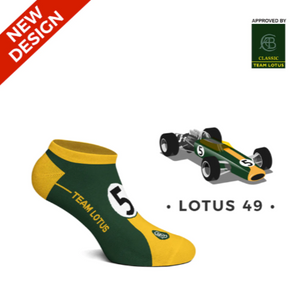 Lotus 49 Low Socks
Regular price $10.00
Lotus 49 Low Socks
Wear your passion on your feet!
GaragePassions.ca is excited to offer Motorsports inspired socks by Heel Tread.
Celebrating the Lotus 49 Formula one car of the late 60's, campaigned by Jim Clark, in 1967 and provided him with the last win of his carrer in 1968.
Approved by Classic Team Lotus.
80% Combed Cotton, 17% Polyamide, 3% Elastane.
We use seamless knitting to create a sock with no stitches.
Wash inside out (40ºC/100ºF max). Do not tumble dry, iron, bleach or dry clean.
Size : Large (Men US 8 - 12) / (Women US 10 - 12 1/2)
people are currently looking at this product
Estimated delivery time 5-10 days