Gulf Low Socks - Revised design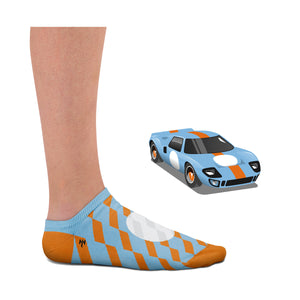 Gulf Low Socks - Revised design
Regular price $10.00
Gulf Low Socks - Revised design
Show your feet some passion!
GaragePassions offers Gulf Racing livery inspired socks by Heel Tread.
A road legal V8 engine race car which stood a mere 40 inches from the tarmac... need we say more? Gulf Oil colors were the inspiration for the design, which in combination with the sweeping lines of the Ford GT40 made it arguably the most iconic race car of all time.
80% Combed Cotton, 17% Polyamide, 3% Elastane.
We use seamless knitting to create a sock with no stitches.
Wash inside out (40ºC/100ºF max). Do not tumble dry, iron, bleach or dry clean.
Size : Large (Men US 8 - 12) / (Women US 10 - 12 1/2)
Gulf Low Socks - Revised design
people are currently looking at this product
Estimated delivery time 5-10 days