Ferrari F1 nose piece #27 Wall Art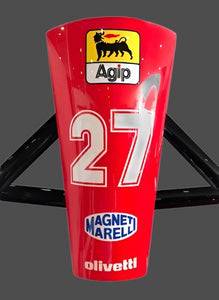 Ferrari F1 nose piece #27 Wall Art
Regular price $769.00
Show your walls some passion!
Ferrari F1 nose piece #27 Wall Art
Perfect addition to your home office, garage or man cave.
GP is very proud to be offering this art piece from Homage Corner, celebrating a Canadian racing legend - Gilles Villeneuve.
The 223 grand prix of Ferrari number 27 saw only 10 victories, but the spirit established by Gilles Villeneuve was never about pure success. The aura of Ferrari number 27 is a tale of driving by emotion, of outperforming frequently inferior machinery, and of racing on the edge to carry the legacy of Villeneuve for the eternally partisan Tifosi.
Made with fibreglass, MDF and automotive paint.
Measures 60 cm wide by 35 cm high.
Price includes shipping to anywhere in North America. Please inquire for international shipping options.
This is a special handmade, made to order, collector piece
Ferrari F1 nose piece #27 Wall Art
people are currently looking at this product
Estimated delivery time 5-10 days