Ayrton Senna Camel Lotus 99T Honda F1 3D wall art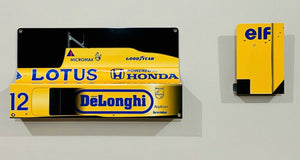 Ayrton Senna Camel Lotus 99T Honda F1 3D wall art
Regular price $174.00 $171.00 2% OFF
Ayrton Senna Camel Lotus 99T Honda F1 3D wall art

High quality commemorative wall art piece.
This one is of the 1988 Lotus 99T, driven by Ayrton Senna with the new Camel livery.
This Honda powered Formula One car, designed by Gérard Ducarouge, is the second Lotus equipped with electronic active suspension.
This decorative piece is made of thick aluminium with HD graphics, incredible colours and attention to detail.
Size is approximately 23 inches wide by 12 inches tall.
This piece features holes to help mounting it to a wall (hardware not included).
Ayrton Senna Camel Lotus 99T Honda F1 3D wall art

people are currently looking at this product
Estimated delivery time 5-10 days